420 Weekly Sticker Kit - HORIZONTAL - Blue Purple Pink Bokeh Sparkle (Retiring Design)
Regular price
Sale price
$4.50 USD
Unit price
per
We currently have 7 in stock
This adorable marijuana-themed sticker kit is an original and unique CannaPlanning creation, created by me with love. It's a great mix of stickers for a week of weedy planning in any type of planner, bullet journal, or travelers notebook.
*Horizontal Kit* "full boxes" and large checklists are both ~1.625 inches tall, designed to be usable in both Erin Condren and Happy Planner vertical planners, as well as TNs, Bujos, and others.
Kit pages are between 4.75"x7-7.5 inches and include:
PAGE A: FULL BOXES and CHECKLISTS
-6 regular full boxes
-4 large checklists
-6 half checklists
-6 individual checkboxes
-Weedy weekend banner (3.125 inches wide)
PAGE B: HALF BOXES and DECO
-6 half boxes
-8 quarter boxes
-4 layering corner boxes
-5 weedy lettering stickers
-Marijuana- and household-themed deco stickers
PAGE C: WASHI
-2 washi strips just under an inch tall (.9375 inches to be exact)x 6.325 inches, designed to be trimmed to your specific use.
-4 page flags
-2 corner circles
-5 Pot leaf dividers
-2 habit trackers
-1 strain tracker
-1 ombre checklist full box
-4 lettered functional stickers
-1 lettered deco sticker
-weedy deco stickers
PAGE D: DATE COVER STRIP
-Monday through Friday date cover labels
Materials: lots of love, creativity, matte sticker paper, laser toner.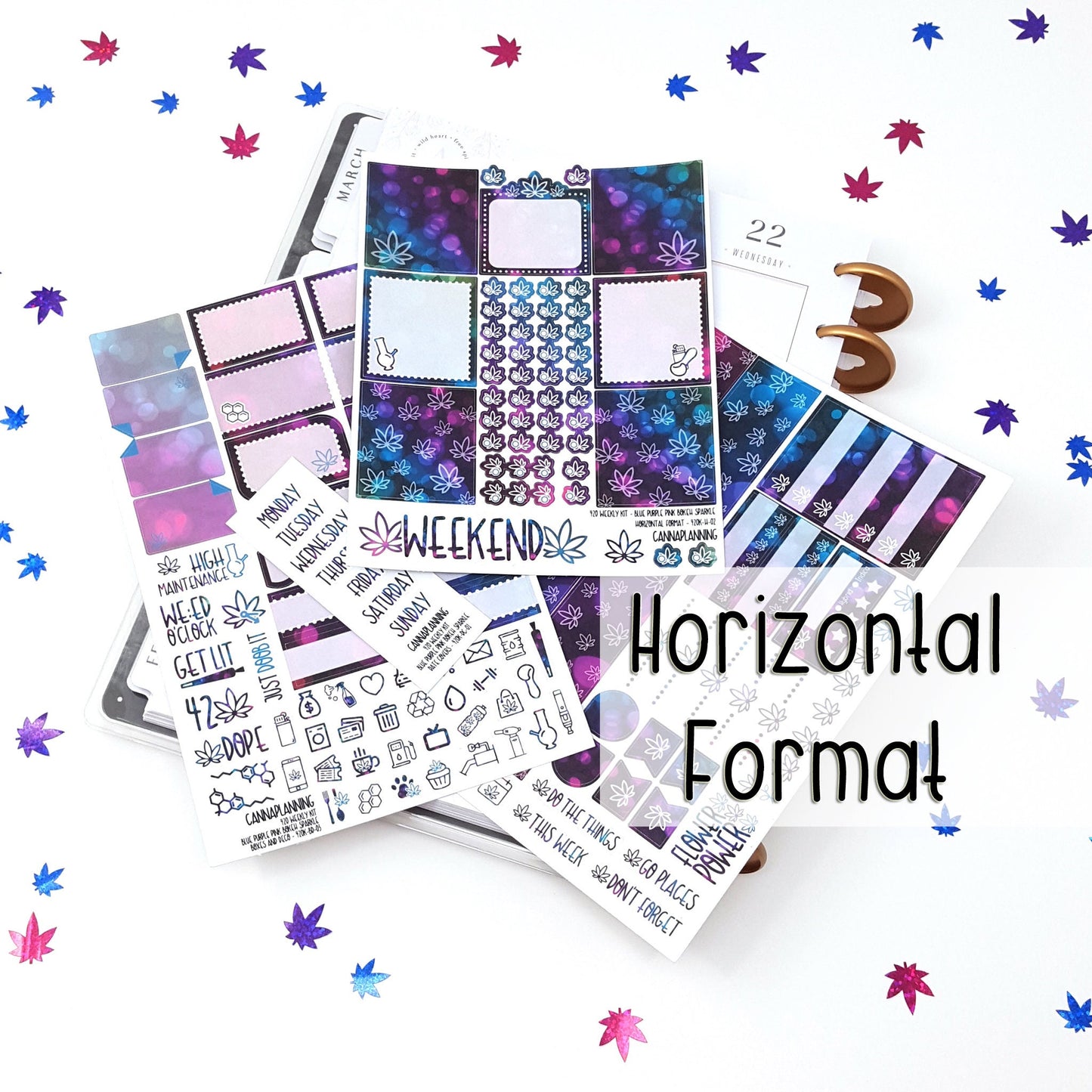 This review has no content.
This review has no content.
Absolutely love the colors on this one. I'm tempted to do my entire book in this color scheme.
I fully support legalization/decriminalization, but I can't smoke bc of my kids & my job.
So when I came across this store I loved what I saw (I was brought here because of Bernie stickers) and really wanted to support the artist, but I doubted I could find anything I could actually use.
I was very wrong.
I say 'artist' for a reason. These are more than stickers, they are tiny pieces of art. I ordered the Bernie stickers I had originally found and a simple but beautiful pack that just listed the days of the week. I was pleasantly surprised to recieve the stickers I ordered plus an additional sheet.
The quality is absolutely amazing & the colors are gorgeous. I want to put these stickers everywhere now. I will definitely be ordering more and I highly recommend this seller.
Awesome kit! Can't wait to use!